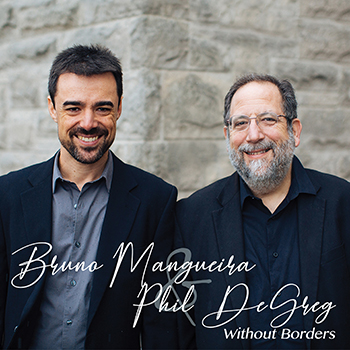 Faixas _____________________________________________
| | |
| --- | --- |
| 1. |  Alto-mar |
| 2. |  Away and Alone |
| 3. |  Eu sonhei que tu estavas tão linda |
| 4. |  The Duke |
| 5. |  Guarapari |
| 6. |  Like Someone in Love |
2019 Without Borders
---

MÚSICOS: BRUNO MANGUEIRA, PHIL DeGREG, ANDREY JUNCA, KEVIN McCLELLAN, JUAN MEGNA

Celebrando 11 anos de uma parceria musical internacional, Bruno e o pianista norte-americano Phil DeGreg lançam o CD Without Borders ("Sem fronteiras"). Gravado nos Estados Unidos, o álbum traz composições de Bruno e Phil e standards da música brasileira e do jazz, e conta com a participação dos músicos Andrey Junca, Kevin MacClellan (contrabaixo) e Juan Megna (bateria). A mixagem foi realizada no estúdio Arsis, em São Paulo, pelo premiado engenheiro Adonias Souza Junior.

Dentre diversas apresentações já realizadas em colaboração, no Brasil e nos EUA, destacam-se a Orquestra Filarmônica da University of Cincinnati, a big band Cincinnati Contemporary Jazz Orchestra, o Festival Internacional de Jazz de Santa Teresa, JazzB (São Paulo), e os CDs "Brazilian People" (Phil DeGreg & Brasilia) e "Just a Matter of Time" (Mandy Gaines).

O CD foi lançado em maio de 2019, em turnê de Bruno nos EUA, promovida pela Cincinnati Contemporary Jazz Orchestra.