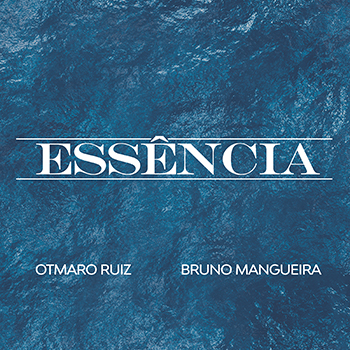 Tracks _____________________________________________
1.

 Acordando (Otmaro Ruiz)

2.

 Obsesion

(Pedro Flores)

3.

 Samba pro Toninho 

(Bruno Mangueira)

4.

 And Then She Smiles

(Otmaro Ruiz)

5.

 Tu Mi Delirio (Cesar Portillo de la Luz)

6.

 The Simple Life 

(Otmaro Ruiz)

7.

 O escultor de sons (Bruno Mangueira)

8.

 

Santa Clarita 

(Bruno Mangueira)

9.

 Living Pictures 

(Otmaro Ruiz)

10.

 Terra Batida 

(Bruno Mangueira)
2020 Essência
---

MUSICIANS: OTMARO RUIZ, BRUNO MANGUEIRA

Recorded in Los Angeles as a duo with Grammy-nominated pianist Otmaro Ruiz, Essência is released by American label Blue Canoe Records. The album features liner notes by pianist / keyboardist Russell Ferrante (Yellowjackets).

Essência is a joyful romp through the musical landscape of the Americas guided by master pianist Otmaro Ruiz and exciting new guitar virtuoso, Bruno Mangueira. Their musical partnership is informed by their Venezuelan and Brazilian heritages fused with their deep love and understanding of American jazz and the European classical tradition.
— Russell Ferrante
Click here
 to read the full version of Russell Ferrante's liner notes.