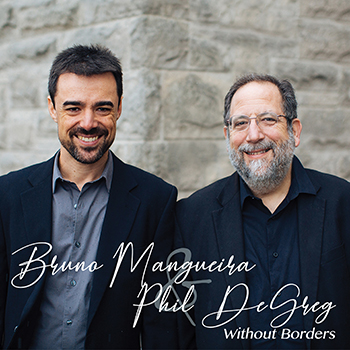 Tracks _____________________________________________
| | |
| --- | --- |
| 1. |  Alto-Mar (High Seas) |
| 2. |  Away and Alone |
| 3. |  Eu Sonhei Que Tu Estavas Tão Linda |
|   |  (I Dreamed That You Were So Beautiful) |
| 4. |  The Duke |
| 5. |  Guarapari |
| 6. |  Like Someone in Love |
2019 Without Borders
---

MUSICIANS: BRUNO MANGUEIRA, PHIL DeGREG, ANDREY JUNCA, KEVIN McCLELLAN, JUAN MEGNA

Celebrating 11 years of an international musical partnership, Bruno and American pianist Phil DeGreg present the CD Without Borders. Recorded in the United States, the album features compositions by Bruno and Phil, as well as Brazilian and jazz standards. Featuring Andrey Junca and Kevin MacClellan on bass, and Juan Megna on drums. The CD was mixed and mastered by award-winning engineer Adonias Souza Junior at Arsis Studio, in Sao Paulo, Brazil.

Bruno and Phil's several collaborations in both Brazil and the USA include the University of Cincinnati Philharmonia Orchestra, The Cincinnati Contemporary Jazz Orchestra, Santa Teresa International Jazz Festival, JazzB (São Paulo), and the CDs "Brazilian People" by Phil DeGreg & Brasilia and "Just a Matter of Time" by Mandy Gaines.

Without Borders was released in May 2019, during Bruno's U.S. tour sponsored by the Cincinnati Contemporary Jazz Orchestra.