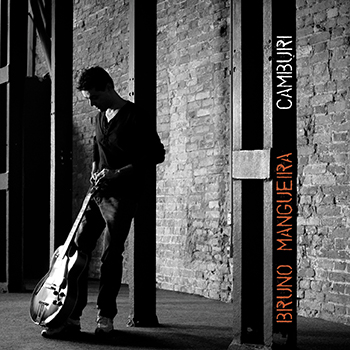 Tracks
_____________________________________________
1.

 Arguto

2.

 Menino do Interior

3.

 Sopro de Vida

4.

 Novo Amor

– feat. Leila Pinheiro

5.

 Vitória a Minas

6.

 Cenas do Último Capítulo

– feat. Beth Bruno

7.

 Choro nº

3

8.

 Camburi

– feat. Filó Machado

9.

 Samba

10.

 A Turma do Liceu
2013 Camburi
---

MUSICIANS: BRUNO MANGUEIRA, FABIO TORRES, BRUNO CARDOZO, GILSON PERANZZETTA, SIDIEL VIEIRA, THIAGO ALVES, CELSO DE ALMEIDA, ROBERTINHO SILVA, LEANDRO OLIVEIRA, SIDMAR VIEIRA, JOÃO LENHARI, NICOLAY ILIEV, FELIPE SECAMILLI

SPECIAL GUESTS: LEILA PINHEIRO, FILÓ MACHADO, BETH BRUNO

In his second album, guitarist Bruno Mangueira introduces a collection of original music showcasing various Brazilian styles blended with jazz accents. Recorded in Sao Paulo, Rio de Janeiro, and New York City, it features acclaimed guest artists Leila Pinheiro, Filó Machado, Beth Bruno and Gilson Peranzzetta.

With good taste and personality, he traces well his musical paths, always searching out the best: his accomplished influences of Brazilian music and jazz mingle in a sensitive way, and gradually his music evolves as his own – personal, compelling and cheerful.
Today, listening to his CD, I am sure that his musical contribution to Brazil and the world is already written.
— Toninho Horta
CD Camburi was released in Brazilian and U.S. cities, including Bruno's concert with symphony orchestra and big band at the University of Louisville
Jazz Fest 2014
— an event that also featured bassist Christian McBride.
The album was produced by the Government of Vitoria, with the support of Grupo CJF, Viação Grande Vitória and ArcelorMittal.