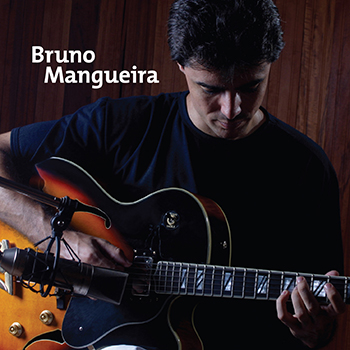 Tracks
_____________________________________________
1.

 Cristina

2.

 Canavial

3.

 Choro nº

5

4.

 Devaneio

5.

 Fim de Verão

6.

 Terra Batida

7.

 Bianca

8.

 Fazenda Santa Maria

9.

 Segunda-feira com Proveta

10.

 O picadeiro

11.

 Samba pro Toninho (bonus track)
2009
Bruno Mangueira
---
MUSICIANS: BRUNO MANGUEIRA, TIAGO COSTA, PAULO PAULELLI, EDU RIBEIRO, ROBERTINHO SILVA, UBALDO VERSOLATO, NAHOR GOMES, RUBINHO ANTUNES, SIDNEI BORGANI, WILSON DIAS, RICARDO CREN, TIBÔ DELOR, SAO PAULO STATE SYMPHONY ORCHESTRA (OSESP) MEMBERS AND OTHERS

SPECIAL GUESTS: TONINHO HORTA, NAILOR PROVETA, LÉA FREIRE, TONINHO FERRAGUTTI, GABRIEL GROSSI, RODRIGO URSAIA
Recorded in Sao Paulo, Bruno Mangueira's first CD features some of the best musicians in Brazil. The program is drawn almost entirely from Bruno's original repertoire, was produced and arranged by him, and includes big band and orchestral tracks.
In addition to being an inspired and talented composer, he proves to be a fine, full-fledged arranger who explores Brazilian and jazz genres in various settings. His orchestration skills are particularly noteworthy.
His solos are melodic and, when necessary, can be both quite technical and uninhibited, demonstrating his solid musical foundation, maturity and versatility.
— Roberto Menescal
The CD was released at the 
television show Instrumental SESC Brasil
 (SescTV), which was recorded live in Sao Paulo in January, 2010. It was also released at concerts in New York City and at the Santa Tereza International Jazz and Bossa Fest, and was pre-selected for the Brazilian Music Award.
This album was produced through the Ministry of Culture, Brazilian Government, sponsored by Escelsa.